EFFAA'S SOIL TESTING KIT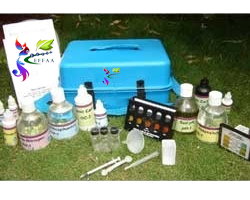 EFFAA'S SOIL TESTING KIT contains everything required to test soil at the field itself. The kits are easy to use and are available at competitive prices. The testing procedures are simple enough for even a layman to use.
Our Soil Testing Kits can be used to quickly test 5 major parameters in soil, namely-Available Nitrogen (N),Available Phosphorus (P), Available Potassium (K), pH, Organic Carbon
The Kit contains everything needed to perform the tests on site, well packed in a compact box for convenient field use. It comes with an Instructions manual containing easy step – by - step testing procedures which enable any one to carry out all tests.
The users get an idea as to whether the nutrient rating is very low, low to medium, high or very high. Thus, further corrective action can be carried out as required.
Specification of EFFAA'S SOIL TESTING KIT:
| | | | |
| --- | --- | --- | --- |
| Sr.No | Parameter | Range Tested by Kit | No. of Tests |
| 1 | PH | 4.5, 5.0, 5.5, 6.0, 6.5, 7.0, 7.5, 8.0, 8.5, 9.0 | 50 |
| 2 | Available Nitrogen (N) (Kg/ha) | 140, 280, 420, 560, 700 | 50 |
| 3 | Available Phosphorus (P) (Kg/ha) | 7, 14, 21, 28, 35 | 50 |
| 4 | Available Potassium (K) (Kg/ha) | 100, 150, 200, 250, 300 | 50 |
| 5 | Organic Carbon (%) | 0.2, 0.4, 0.6, 0.8, 1.0 | 50 |
EFFAA'S ADVANCED SOIL TESTING KIT
Our advanced soil testing kit offers the finest visual color matching system available to today's agronomist. Technically advanced reagent systems and unique extraction procedures based on the Mehlich I extraction provide fast, simple and extremely accurate soil testing.
Effaa's advanced soil testing kit offers simplified methods for determination of available nutrients found in agricultural soils for years.
The Reagent systems have been updated constantly with new advancements in modern chemistry. A series of rapid, accurate chemical tests use standardized reagents to produce color reactions measured against laminated color charts.
All EFFAA KITS are packed in lightweight carrying cases with components securely mounted in removable foam trays. This format provides flexibility for the in-house specialist who also wants to make quick problem determinations in the field.
Colorimetric test methods are used for most test factors. Tests for calcium, sulfate and chlorides are based on turbidity measurements. Potassium analysis also employs a turbidity measurement. A single extraction procedure using Morgan Universal Extraction Solution provides the liquid soil extract for all the nutrient tests with the exception of chloride, which is extracted with demineralized water. The Humus Screening Test, performed on a soil sample-demineralized water suspension, employs five color standards for rapid measurement of humus content of the soil.
Soil pH is determined colorimetrically, using a series of pH indicators and color charts covering the range of pH 3.8 to 9.6. The EFFAA KITS also include simplified procedures for screening nitrates, phosphorus, and potassium in plant tissues. Complete reagent refill packages are available for each EFFAA KIT. Each kit includes complete instructions and a pad of soil analysis report forms. This advanced top end soil test kit is for the quality conscious agronomist and not suitable for the common man. In case the usage of such advanced kit is found complicated, we can help you set up soil testing laboratories in major locations in your country (say 100 per country) that will generate revenue on an independent basis.
| | | |
| --- | --- | --- |
| Parameter | Range | Tests |
| Nitrate Nitrogen | 1.25-50 ppm | 100 |
| Phosphorus | 7-75 ppm | 100 |
| Potassium | 60-100 ppm | 100 |
| Humus | 1-8 % | 100 |
| Calcium | 0-5,000 ppm | 100 |
| Magnesium | 0-120 ppm | 100 |
| Ammonia Nitrogen | 5-40 ppm | 100 |
| | | |
| --- | --- | --- |
| Parameter | Range | Tests |
| Nitrate Nitrogen | 1.25-50 ppm | 100 |
| Phosphorus | 7-75 ppm | 100 |
| Potassium | 60-100 ppm | 100 |
| Humus | 1-8 % | 100 |
| Calcium | 0-5,000 ppm | 100 |
| Magnesium | 0-120 ppm | 100 |
| Ammonia Nitrogen | 5-40 ppm | 100 |